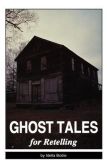 This book was written with the aim of sharing a collection of creepy tales to be told aloud at maybe a campfire or such, yet I found myself delightfully entertained with most every one of them.
The stories are broken into five sections, unless you are looking for something in particular.
Such sections include:
flesh-tingling stories, spirits returning, supernatural stories, haunted places, and shapes and shadows.
I personally enjoyed the flesh-tingling stories and the haunted places.
What I enjoyed most about this book is the stories were unique and fresh, this wasn't one of those books that has a collection of ghost stories that have been printed to death.
Though there are some tales that sound a bit familiar, old ghost stories I've heard others tell, I enjoyed them nonetheless.
Miss Bodie even included a section 'Hints for Effective Storytelling,' and with little illustrations here and there, you really can't go wrong with this collection of grisly tales, particularly if you're just looking to be spooked (or spook others).